Planning for a Theater Experience to Remember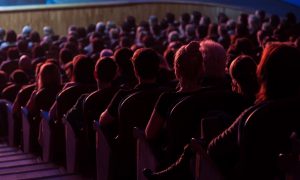 What makes a theater experience a memorable one? It's not just about the play the patrons get to watch. It's also about the overall ambiance of the theater, which is determined by the following factors:
Comfort
As patrons come into the theater, they are escorted to their seats by the staff. Each member of the staff should be courteous and professional, and should go out of their way to help a patron be at ease.
The theater seating
also plays a role in the comfort of patrons, so make sure they find their seats easily and they can sit comfortably. Some theaters allow for seat adjustment, but this should not inconvenience those who are in the next row.
Acoustics
No matter how good the play's effects are, if the audience cannot hear the sounds properly, they will not enjoy the experience. Sound engineers should determine the
best configuration of a theater space
, so that wherever the patron is located, they can hear everything clearly. Speakers should also not be obstructing views or blasting too much sound into one area. When designing the theater, take into account how the number of people in the room will affect the sound quality. This usually helps determine the maximum seats to be added to the theater.
Security
No one wants to go to the theater and fear for their life. It is a dangerous world, and you'll never know what could go wrong. The security should be tight enough to catch any objects that could hurt others. Even a prank can cause harm when enough people are scared, so any item that can cause ruckus should be confiscated. Inform the patrons that their items will be secure and that they can claim them after the show. You could also release an advisory
detailing the items they should not bring
to the theater. Do remember to keep security checks as hassle-free for patrons as possible, and apologize for the inconvenience. Providing your patrons a good theater experience requires teamwork. Your staff should be able to answer any questions. Your security team should be courteous while doing their job. And the theater itself should be conducive of a good time.